SCALABLE DOOR ACCESS CONTROL SYSTEMS USING OUR ROBUST MANAGEMENT SOFTWARE
Maintain the integrity of your building security by controlling access for all who enter with a tailored solution from the professionals at Custom Alarm.
Electronic Door Locks
Not every door needs electric locks, but for the ones that do we use high quality durable electric locks from leading manufacturers. Knobs, levers, touch bars and crash bars can all be converted to remote controlled electronic devices.
ID Cards, Fobs & Biometrics
You want to come in? Who are you? Are you authorized? Present your card or hand to the electronic reader and the system will decide whether or not to let you pass. All activity can be recorded and later retrieved using the system's report feature.
Access Management Software
Enroll users, set access time frames for user groups, set times for your main entrance to automatically unlock / lock at predetermined times. Remotely unlock / lock doors from your computer. Print activity reports and so much more...
SECURE YOUR FACILITY WITH EASE
Intuitive management tools
Active mapping with integrated floor plans
VMS and CCTV integration
WHY CHOOSE CUSTOM ALARMS?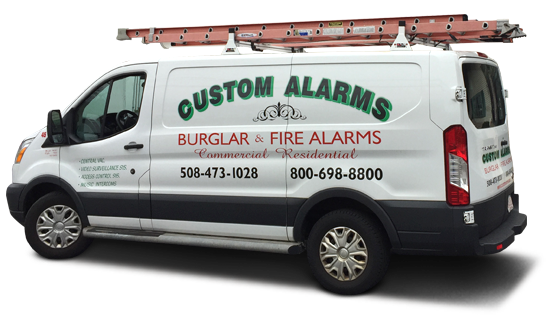 Celebrating 45 years of excellence in door access control
Serving residential, commercial & municipal customers
State mandated background checks on all employees
Licensed to work throughout MA & RI
Focused on providing the highest level of service
Questions about Door Acces Control systems? Get answers by calling
(800) 698-8800 or send us an email today.