fire solutions from custom alarms reduce property damage & save lives
In a world where everything can change in an instant, count on the reliability & simplicity of a Custom Alarms fire alarm system for your residential, commercial or municipal building
Control Panels & Emergency Command Centers
From a small business to a large multi-use commercial facility, Custom Alarms has the perfect FIRE-LITE controls to fit your application. These systems leverage the latest technology and 60+ years of life safety experience.
Manual & Automatic Activation
Trust the Professionals at Custom Alarms to design a code compliant system that will fit your specific needs. We routinely work with area code officials. So rest easy while we take care of the approval process and permitting.
A.D.A. Compliant Notification
The sooner you know the safer you are! Horns, Speakers, Strobe lights and Beacons let you know immediately that the system has been activated. Central Station Monitoring of your fire alarm system quickly notifies the authorities.
TOTAL LIFE SAFETY FOR A VARIETY OF INDUSTRIES
Schools, Colleges & Assemblies in RI & MA
With so many challenges in maintaining an education campus, spending precious budget money on expensive proprietary fire alarm systems shouldn't be one of them. Let the experts at Custom Alarms engineer a reasonably priced fire alarm solution for you.

Custom Alarms offers a full line of affordable non-proprietary products that provide state of the art technology while saving money. Our addressable detection devices and mass notification systems make it possible for occupants to be notified with a clear understanding of how to respond to the emergency.
Nursing Homes & Assisted Living Facilities
The need for reliable, code compliant life safety systems is a growing concern for administrators responsible for residents living in nursing homes and assisted living facilities. Custom Alarms will work with you to make sure that your systems are compliant and your quarterly inspections are done thoroughly and on time. We are often asked to build custom components for special circumstances. That's one of the things that puts "CUSTOM" in Custom Alarms.

Contact us for a free, no-obligation proposal that shows how Custom Alarms can satisfy your life safety compliance needs at a price that is most likely less than you are paying now!
Retail Shops & Malls
Retail chains and independent store owners across MA and RI rely on Custom Alarms to develop fire alarm systems that protect their merchandise and the valuable flow of business that could be devastatingly interrupted by a costly fire.

Does your current system minimize false alarms? Will those interruptions create a loss of revenue? Our complete line of affordable non-proprietary products and services help to keep your business up and running. Custom Alarms is your one stop solution for fire alarms, burglar alarms, hold-up notification and video surveillance systems. One call gets it all!
Residential & Commercial Property Management
Property managers need someone they can trust to be there when they need them. Custom Alarms has qualified technicians available 24/7/365 ready to advise you over the phone or come to the site for emergency service. Although we use non-proprietary equipment in our new systems we can service most proprietary brands of fire alarm systems.

We know what's important to property managers so rest easy and let Custom Alarms take care of all your fire alarm needs: state mandated inspections & testing, system monitoring, repair service, system upgrades and new installations.
Custom Alarms' fire safety systems protect these spaces as well...
WHY CHOOSE CUSTOM ALARMS?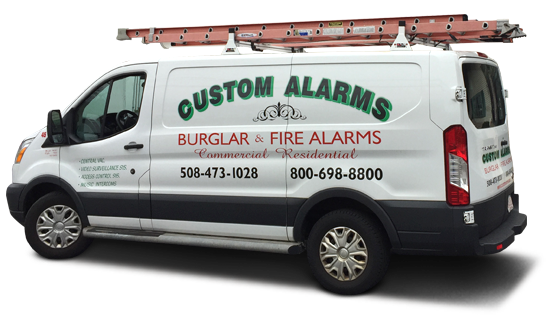 Celebrating 45 years of excellence in smoke & fire detection
Serving residential, commercial & municipal customers
State mandated background checks on all employees
Licensed to work throughout MA & RI
Focused on providing the highest level of service
Let our professionals answer your questions about Fire Alarm systems!
Call (800) 698-8800 or send us an email today.