PROTECT YOUR PROPERTY WITH CUSTOM ALARMS
Security & burglar alarm systems are custom designed for your space using tried and true technologies
Control Panels
Convenience and ease of use is what you will get from a Custom Alarms system. We work hard so you don't have to... arming your system is as easy as pushing a button.
Sensors & Detectors
We'll work to design the right detection plan for you. Sensors and detectors in key locations throughout your home or business become the eyes and ears of your security system.
Signaling Devices
In the event of a break-in, we want the intruder to know that they've been detected. Loud signaling devices compel them to leave the property immediately and alert neighbors to the situation.
CONTROL YOUR SECURITY SYSTEM REMOTELY
Total Control
Control your security system, video cameras, thermostats, lighting, locks and more
Stay Informed
Receive event notifications on activity at your home or business
See & Interact
View live video and speak to visitors at the front door using compatible smart devices
Total Access
Accessible through iOS and Android devices as well as Honeywell's mobile website
Control your security system with your smartphone and Honeywell Total Connect Remote Services
Contact Custom Alarms for more information!
WHY CHOOSE CUSTOM ALARMS?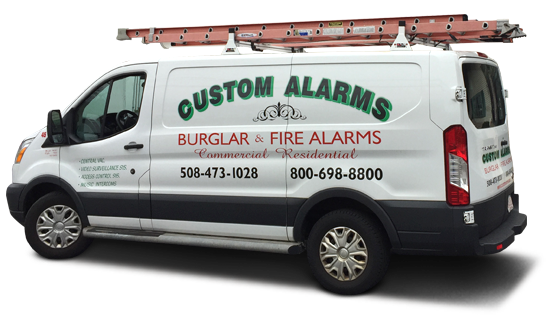 Celebrating 45 years of excellence in intrusion alarms
Serving residential, commercial & municipal customers
State mandated background checks on all employees
Licensed to work throughout MA & RI
Focused on providing the highest level of service
To get more information about your personalized Custom Alarm system,
call (800) 698-8800 or send us an email today.