Monitor your Environment with Video Surveillance from Custom Alarms
Seeing is believing! High quality video solutions allow you to see (and record) what's happening at your home, commercial facility or municipal building
Surveillance Cameras
Available in a variety of shapes and housings, resolutions and technologies, today's surveillance cameras are designed to be unobtrusive, yet effective in recording activity throughout your home or facility.
Video Recorders
Surveillance recordings can provide you with evidence when something occurs on your property. Depending on your needs, Digital Video & Network Video Recorders can be configured to store days or months of video.
Basic to Extravagant
Whether you need 1 camera or 101, let Custom Alarms build the perfect CCTV system to meet your specific needs. Beware of the DIY online bargains - our experts have done the research to get you the quality / resolution that you require.
FEATURES THAT MAKE YOUR LIFE EASIER
Record your video locally in high resolution
The video surveillance industry is constantly evolving with better more advanced equipment. This is great news and what makes it better is that the prices are coming down! So don't waste your money on DIY gadgets that charge you for inferior cloud storage. Use our state of the art NVR's and DVR's that keep your private video recordings safe and secure in your own building.
Remote access to view / playback video
See your video from anywhere! View it on the TV you already have, log in from your computer, tablet or just pick up your phone and there's your driveway! It's that easy. Recorded video shows you what happened, when it happened and who was involved.
WHY CHOOSE CUSTOM ALARMS?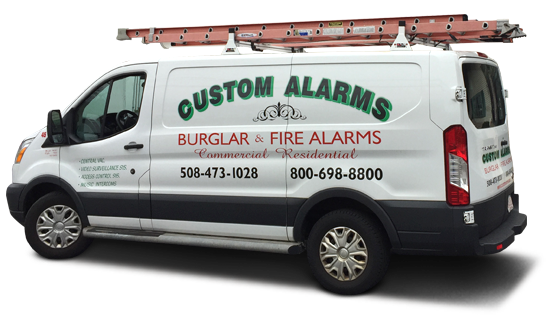 Celebrating 45 years of excellence in video surveillance
Serving residential, commercial & municipal customers
State mandated background checks on all employees
Licensed to work throughout MA & RI
Focused on providing the highest level of service
Questions about Video Surveillance systems? Get answers by calling
(800) 698-8800 or send us an email today.